Chicken Biryani.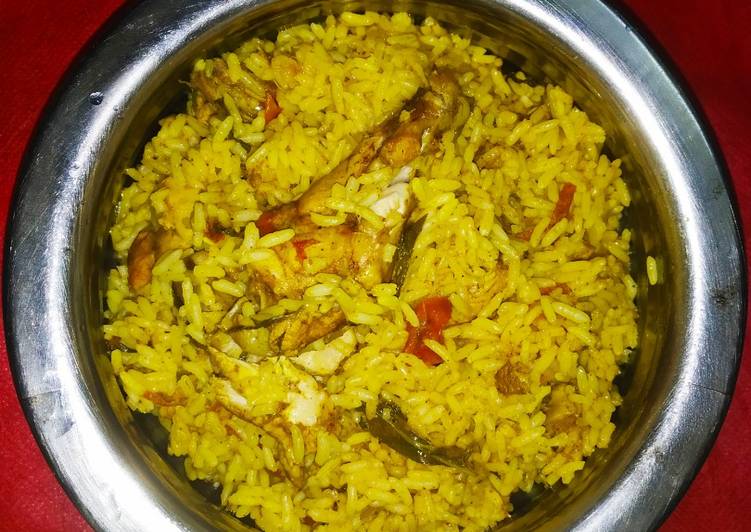 You can have Chicken Biryani using 17 ingredients and 5 steps. Here is how you cook that.
Ingredients of Chicken Biryani
Prepare 3 tbsp of oil.
Prepare 2 of bay leaves.
Prepare 3 of green cardamons, powdered.
You need 3 of cloves.
It's 3 of large size (250 g) onion, sliced.
You need 3 of green chilies.
Prepare 1 tbsp of ginger-garlic paste.
It's 1/2 tsp of turmeric powder.
It's 3 tbsp of biryani masala from any brand.
It's 1 tbsp of chilli powder (if needed).
You need 2 of medium sized (150 g) tomatoes, sliced.
It's 1/2 cup of curd/ yoghurt.
Prepare Handful of coriander leaves and mint leaves.
Prepare 500 grams of chicken (with bone).
It's 2 cups of rice (soaked for 1/2 hours).
It's As required of Water.
Prepare to taste of Salt.
Chicken Biryani step by step
Heat a pressure cooker with oil and add bay leaves, green cardamon and cloves. Saute for a minute and then add sliced onions. Add salt and saute onions till it turns golden. Then add green chilies and ginger-garlic paste. Saute for 3 minutes and add turmeric, biryani masala and chilli powder and mix it well..
Add sliced tomatoes and mix it well till it becomes a paste. Then add coriander leaves and mint leaves and mix it well..
Add curd and mix it. Then add chicken (with bone) and mix it well. Cook sometime till the chicken is cooked 50%..
Then add water (for 2 cups of basmati rice, add 3 cup of water). If it's a normal rice, then for 1 cup of rice, add 1 cup of water. Add salt to taste. Then add rice (soaked for 30 minutes and drain it off)..
Normally the ratio of normal rice: water is 1:2. If basmati rice, the ratio is 1:1.5. Mix it well and cover and cook for 1 whistle on a medium heat and then turn off the heat and let it stand for 15 more minutes. Ready to serve..